First online teaching event with international students at GeoZentrum Nordbayern a full success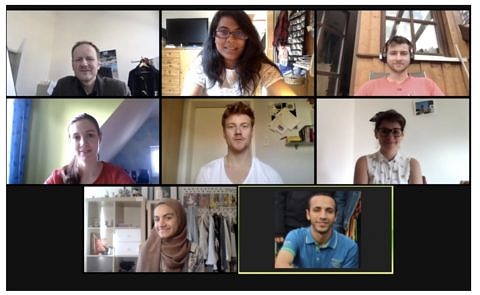 … "and now for the end of the course I would suggest a group photo", says Tasnuva Ming Khan, one of the Earth System Research Lab students who participated in the first online teaching of the course "Tracers, Isotopes and Natural Attenuation" at the GeoZentrum Nordbayern.
"Oha, and how does this work, when we are not all in the same room?" says Johannes Barth, who taught the course, and has only moderate experience with online teaching.
"Very easy! we take a screen shot via our cameras…" chime in rest of the students via their microphones. And so it was done.
This is an encouraging example of how the three-day block course was held: with continuous and collaborative advice of how best to communicate, and the importance of exchange and sharing of screens by the students and their instructor.
"Honestly, I prefer to see my students for real," says Johannes Barth, "but given the circumstances, I was surprised at how well the whole event evolved. In any case, best compliments are due to the students who participated well and made it a two-way teaching and learning experience for all. We all learned about tracers in hydrogeology and tips on how to efficiently teach a course in the digital age. We keep our fingers crossed for the second part of the course, where were hope to conduct a real tracer test in the Karst of Frankonia!
An online offer for block courses during the semester break might be a good possibility, especially for our study program. It enables international students to visit their families during the holidays, but at the same time to take part in a course where attendance was originally compulsory.